What is Pulsed Wave Low Level Laser Technology?
Low Level Laser Light Therapy devices, like most electronic products, have evolved greatly since they were introduced in to the U.S. more than two decades ago.
The Evolution of Low Level Laser Light Therapy (LLLT) Devices
The first LLLT machines were large and bulky, contained 10- 25 laser diodes and were placed in a rotating mechanism so the few diodes could give full scalp coverage.  The machine had to lower to a position which encased the head.  For some that led to a sense of claustrophobia.  These machines were very expensive and had to be housed in salons and clinics.
Next, flat panel lasers were introduced in the market place. These comparatively sleek surfaces- with no moving parts other than the adjustable arms to hold the treatment unit–contained more than 100 laser diodes. They effectively treated the entire hair loss area when placed at the sides back and top of the head and were unobtrusive to the client—much like comparing a "closed" MRI machine to a new "open" MRI. They were also very costly and sizable in stature – these machines were typically found in a clinical environment.
Eventually a more compact "home" LLLT unit became available with typically between 50 and 100 diodes, designed with all components contained in the dome unit. These units sell for up to $3,000.  The stands are compact and reasonably non-intrusive (although not as steady as commercial units) which meant you could place these devices in the home in a discreet area and use it at your convenience.
All of the above units used Continuous Wave (CW) Power whereby the diodes run constantly generating light (and heat).  CW was the industry standard for many years. Recently, a photo-medicine expert at Harvard University / Wellman Institute found that pulsed wave (PW) energy – rapidly blinking/pulsing diodes – already being used in low level laser devices for other purposes, demonstrates a more effective way of delivering the light.  PW energy superiority was further confirmed via NASA studies.
Why Pulsed Wave Low Level Laser Technology is More Effective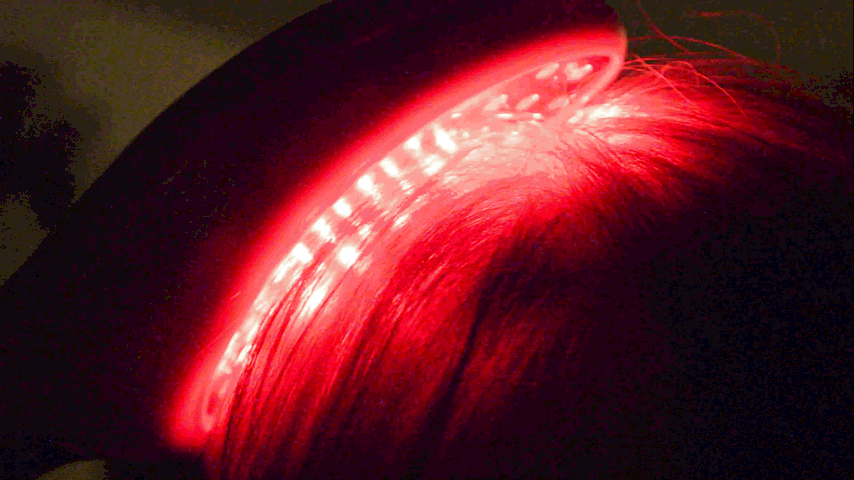 Pulsed Wave has been found to deliver a significant burst of energy with each "on" cycle.  More importantly, the short bursts of energy target the scalp cells without unnecessarily heating the cells (when compared to CW) providing a superior result.
The most important finding in an in depth study revealed that PW energy penetrates Keratin fiber (what the human hair consist of) more effectively than CW.  Therefore, it is believed that the presence of hair already in the area to be treated with LLLT does not impede the efficacy of LLLT treatment.
Nutreve is at the Forefront of the Pulsed Wave Breakthrough
Currently Nutreve is at the leading edge of the PW breakthrough and no other competitor in the Hand Held Laser Device arena offers this technology.
The Nutreve Personal Hair Therapy Laser is lightweight, compact and portable. It is the same size as a standard hairbrush and runs on rechargeable batteries.
The Nutreve Personal Hair Therapy Laser is designed to be used anywhere for the user's convenience, delivering the latest PW technology at an affordable price of only $449.95.
The Nutreve Personal Hair Therapy Laser