How Laser Therapy Works
Benefits of Low Level Laser Therapy
Fuller, thicker, shinier, and healthier hair with fewer hair loss treatments
All natural hair therapy that is completely safe and produces zero side effects
Flexibility and comfort – the low-level laser therapy device is portable so you can use it any time, any place
Greater confidence and a better appearance with a device that combats all of the reasons for hair loss, including male pattern baldness, hormonal imbalances, diet and stress
The benefits of the latest technology in hair care therapy at an affordable price
"Low Level Laser Therapy is by far the most advanced and promising
non-surgical hair loss treatment available today for men and women."
-Dr. Bradley Kurgis, world renowned hair restoration expert and diplomat of the American Board of Hair Restoration Surgery
Dr. Michael Hamblin, Associate Professor of Dermatology of Harvard University and head of the Wellman Center for Photomedicine and Photodynamic describes the mechanism of low level laser light therapy as affecting the growth of cells in the scalp, of which the hair cells are a key part.
As DHT is the agent in the body that blocks cell growth, LHT is thought to open the pathways to the cells, increasing microcirculation of blood and allowing the cells to take in nutrients and release toxins. This process is necessary to reverse "miniaturization" of hair follicles by allowing cells to grow and replicate.
Another bi-product of LHT, as witnessed in clinical studies, is an increase in the body and fullness of hair follicles being treated. This is believed to be caused by the stimulation of the arector pili muscle-a tiny muscle found in every hair or follicular unit. The arector pili muscle is what gives hair support. Stimulated by LHT, the hair tends to regain its former support, providing lift to the hair.
Finally, the shine, luster and elasticity of the hair follicle are affected by the output of the sebaceaous gland, the lubricating agent that allows the hair to penetrate the scalp. Clients of LHT often find their hair becoming shinier and more flexible, as opposed to dry and brittle. The effect of LHT on the sebaceous gland is thought to normalize the gland.
How does low level laser light treat thinning hair?
Low level laser therapy (LLLT) has been shown in thousands of peer-reviewed publications to increase cellular survival, proliferation and function. The light is absorbed by mitochondria, increases cellular respiration and induces activation of transcription factors via reactive oxygen species.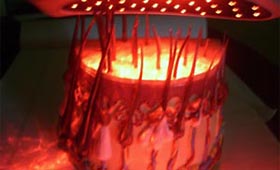 1. Low Level Laser Light targets the entire hair follicle.
FDA regulations require that no more than 5mW of energy can be produced by hair therapy devices. Described as "cool lasers" they penetrate the scalp to the depth of the major blood supply to the hair root-no more than 6mm.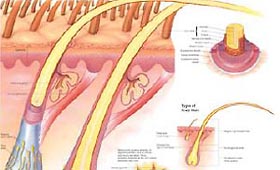 2. The goal of LHT is to help the hair return to its normal growth cycle.
LHT can stimulate cellular respiration, the absorption of nutrients and the release of toxins through the mitochondria of the hair cells.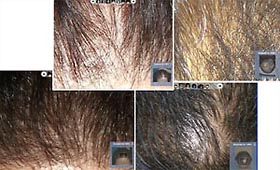 3. Maintaining a proper regimen of use maximizes the effect of LHT. ("Before" pictures above, "After" pictures below)

Often compared to building muscle with exercise, "stacking" energy delivered to the cells can create a prolonged and lasting effect on the production of hair cells.
The Nutreve Personal Hair Therapy Laser

Studies Regarding Laser Hair Therapy
ISHRS.org
In Oct of 2003 an ISHRS.org (International Society of Hair Restoration Surgeons) Press Release regarding clinical study results of an LHT hand held device was submitted to the FDA. Dr. Martin Unger of Toronto reported. The results were summarized:
100% of men had stabilization of hair loss in frontal and vertex (top of the head) areas;
84.6% of men had hair regrowth (11% of more from baseline) in the frontal area;
82.8% of men had hair regrowth (11% or more from baseline) in the vertex area;
87.5% of women had stabilization of hair loss in the frontal area;
100% of women had stabilization of hair loss in the vertex area;
75% of women had hair regrowth (11% or more from baseline) in the frontal area; and,
96.4% of women had hair regrowth (11% or more from baseline) in the vertex area.
Source: ISHRS.org
---
Midwest RF
In 2010, the FDA granted marketing clearance to a hand held laser device, which reported, in summary,subjects results.
97% demonstrated an increased hair count of 20%
89% demonstrated an increased hair count of 30%
57% demonstrated an increased hair count of 50%
Source: MidwestRF.com
---
Conclusion of a recent study: Scheduled Low Level Laser Treatments, specifically with a system operating at a wavelength of 650-650.8nm, provides medically significant treatment of Androgenetic Alopecia.
After 20 treatments:
92% of the subjects presented an increased hair count of 10% with 60% having an increase of 30%
92% demonstrated a significant impact on their hair growth cycle.
67% stated they had noticed positive changes to their hair
68% stated their rate of hair loss was slower, with an additional 27% stating their rate of loss had stabilized.
---
The Link
A Feb, 2010 clinical LHT study demonstrated as high as a 50% increased hair count among 57% of participants.
Source: "The Link" Magazine, winter 2012, Midwest RF Press release, Feb 2010.
A Better Personal Laser for Better Results
There are only two ways to make a low level laser therapy device more powerful than another.
A better light delivery system
More laser diodes
The more direct contact achieved from the light to be delivered to the scalp, the less power lost when applied. The clear polycarbonate surface of the Nutreve Personal Hair Therapy Laser glides along the scalp, delivering light directly to the surface and 6 mm below where it is needed at the follicle base. With 35 true, semi-conductor laser diodes (no LED's), the Nutreve system provides more than 3 times the power output of the most well known laser device on the market today. In addition, the Nutreve Laser features the largest treatment surface of any handheld device with its 100mm x 50mm contoured treatment face. Don't be fooled by other products with "red lights" instead of true laser diodes.
Laser Device Comparison Chart

Nutreve Personal Hair Therapy Laser

Bosley Lasercomb Elite
Hairmax Laser Comb Premium
HLCC Ultimate 25 Laser
iGrow Laser
Number of laser diodes
35
9
12
25
21 Laser Diodes / 30 LEDs
Laser Diode Output
4.9 mW
<5.0 mW
<5.0 mW
<5 mW
<5mW

*

Total Power
171.5mW
<45 mW
<45mW
<125 mW
<105mW

*

Pulsed Wave Technology
Yes
No
No
No
No
Laser wavelength
650 nm
650 nm
650 nm
650 nm
670 nm

*

FDA Laser class
3R
3R
3R
3R
3R

*

Quality Control
ISO 9001 / CE
ISO 9001 / CE
ISO 9001 / CE
ISO 9001 / CE
ISO 9001 / CE
Power Operation
Cordless, Rechargeable
Cordless, Rechargeable
Cordless, Rechargeable
2 – AA Batteries
Power Cord
Hands Free?
Yes, with optional stand
No
No
No
Yes
Number of Components
2 – Laser & Charging Cord
3 – Laser, Stand & Charging Cord
3 – Laser, Stand & Charging Cord
1- Laser only (disposable batteries)
3 – Laser, Electrical Cord & Controller
MSRP
$449.95
$495.00
$545.00
$399.00
$695.00

*

Laser Diodes only – Learn More
History
The first benefits of Low Level Laser Light Therapy ("LLLT") were first reported in the late 1960's by Hungarian scientist Andre Mester, who observed the rapid healing and re-growth of hair on mice that were irradiated with LLLT.
Today, LLLT is well understood and best explained by experts such as Dr. Michael Hamblin from Harvard University, "LLLT is a safe, non-invasive treatment for men and women experiencing hair loss. Low Level Laser therapy technology harnesses light energy and emits it from a laser diode that penetrates the scalp and invigorates the cells, which delivers nutrients and oxygen to hair follicles. By stimulating cell metabolism and reducing the harmful effects of dihydrotestosterone ("DHT"), the laser light has been found to slow hair loss and to help new hair growth, making the technology one of the most sought after hair loss solutions throughout the world.
The scientific term for the process is called "photobiostimulation" ("PBS"). The four distinct effects of PBS are an increase in ATP (Adenosine Triphosphate) and protein synthesis, improved cell proliferation, a change in cell membrane permeability, and increased blood circulation due to the dilation effect of the Low Level Laser therapy on capillaries.
The Nutreve Personal Hair Therapy Laser