Women's Hair Loss & Pulsed Laser WaveTechnology for Hair Growth
One in Four Women Today Have a Thinning Hair Problem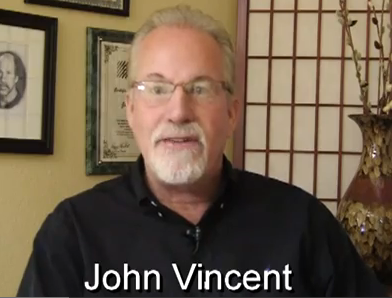 While hair loss in women is most often a hereditary condition in which Dihydrotestosterone (DHT) plays a role, Female Pattern Baldness typically differs from that of men. Men may go completely bald in the temples, crown or all over the top of the head.
Women's hair tends to thin – leaving what is often described as a 'halo' pattern.
Watch the video below to hear from John Vincent the President of Nutreve International all about the nature of hair loss in women and how to manage it.
Women's Hair Loss – Hair Treatment & Restoration For Women – Nutreve Pulsed Laser Wave Technology
As women's hair tends to thin and the fact that most women don't typically go bald but instead experience "miniaturization" or thin, weak, fine and often brittle hair often makes them excellent candidates for LHT. The ability of LHT to achieve the appearance of thicker, fuller and shinier hair is well documented. Just go to our list of testimonials to hear our customers stories. We hope to have your story posted here soon!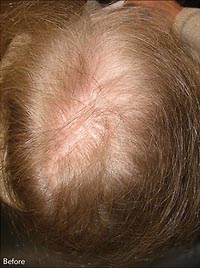 Before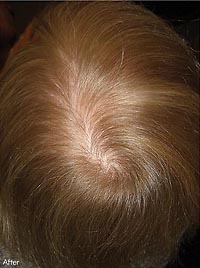 After
Pam, 59 years old. Results after 6 months!
Women's Hair Treatment Options
Salon or home hair product/treatment

Temporary-Can't fix hair from the 'outside'

Topical Drug – minoxidil

Requires application twice a day
Can leave residue in hair

Hair Transplant Surgery

Less qualified female candidates than male
Difficult to achieve 'volume'

Camouflage – Wigs, scalp concealers

Attachment methods can permanently damage hair
Can rub or wash off, can leave scalp dull, dry-looking
Top Ten Myths about Women's Hair Loss
Hair loss is a problem only men have to face
There is no such thing as female pattern baldness
Thinning hair is only a problem for older women
Hair loss is caused by brushing hair too often
Hair loss is caused by washing hair too often
Hair loss is a result of bleaching and/or dyeing hair
You can grow new hair by standing on your head
Your hair will grow back thicker if you shave your head
Wearing hats causes hair loss
There is no way to treat female pattern baldness
With Hair Loss the Sooner you Take Action the Better
Many women will notice their thinning hair for weeks, months or even years before it becomes sufficiently alarming to cause them to take action.
It is critically important to be very proactive as soon as the excessive thinning is noticed. The time to start your hair loss treatment program is yesterday, not tomorrow!  This is one of the reasons Nutreve offers a full no questions asked six month money back guarantee on all purchases of the Personal Hair Therapy Laser.  This helps to enable people to avoid procrastination and try the product without feeling at risk.
Help us with our "war on hair loss" and get your Personal Hair Therapy Laser system today.
The Nutreve Personal Hair Therapy Laser